Weekly Want: I + W Motorcycle Jacket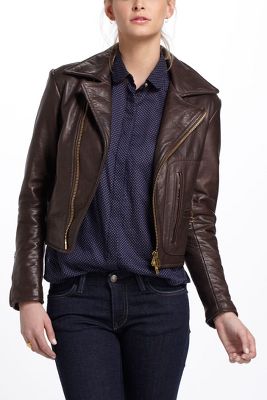 I'm swooning over this limited edition motorcycle jacket from Nashville based Imogene + Willie.  I could seriously have a full blown love affair with this thing!  But alas, it's just a little bit out of my little ol' budget.  Oh, the badassery! Oh, the deliciousness!  Oh! The price tag…hmpfh.
Head over to Imogene + Willie's blog to check out a round up of other quality goods that owner Carrie Eddmenson is loving.  She's one chic lady, and I thoroughly enjoyed combing through this list and delving into her world.  You'll be familiar with #20!*
Now if you'll excuse me, I'm off to perform a series of rituals and meditations for the sole purpose of manifesting this little number into my life.  Namaste, amazing leather jacket. Namaste.
*I must say, while I do find Jessie Baylin's vibe to be reminiscent of a Dusty or a Stevie, Ms. Eddmenson is right — her sound certainly is all her own.  And damn it, I dig it.  Hope you weren't offended by the comparison, Jessie!